'Bad Blood: Secrets and Lies in a Silicon Valley Startup' by John Carreyrou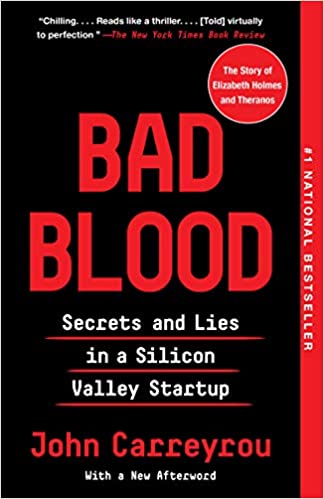 Buy on:
Amazon
Bookshop.org
Some links displayed may be affiliate links on which Kevin earns a commission. To read more about the affiliate links we're using, visit our affiliates page
Why I'm Reading It
Recommended by a friend. I know the story fairly well. Listened to the Dropout podcast and have read plenty of articles.
My Thoughts, Critique, Review
The book was as expected, but it did dive deeper into the rather sinister efforts at silencing whistleblowers. I don't think I realized how viciously they attacked anyone who questioned them. The mistreatment of employees, the siloing of knowledge, the obvious fraud. It's a cautionary tale about how NOT to run a business. It's one thing to "fake it until you make it" from an end user experience (although even that is questionable in healthcare, especially if you're producing dangerous results while faking it), but it's highly illegal to lie to investors and board members. That being said, given what we know of the case today (thanks largely in part to Carreyrou's book and the subsequent trial), the biggest eye opener if you read it today is the mistreatment of employees. Definitely a good read.
Publisher's Description
NATIONAL BESTSELLER - The gripping story of Elizabeth Holmes and Theranos--one of the biggest corporate frauds in history--a tale of ambition and hubris set amid the bold promises of Silicon Valley, rigorously reported by the prize-winning journalist. With a new Afterword."Chilling ... Reads like a thriller ... Carreyrou tells [the Theranos story] virtually to perfection." --The New York Times Book Review

In 2014, Theranos founder and CEO Elizabeth Holmes was widely seen as the next Steve Jobs: a brilliant Stanford dropout whose startup "unicorn" promised to revolutionize the medical industry with its breakthrough device, which performed the whole range of laboratory tests from a single drop of blood. Backed by investors such as Larry Ellison and Tim Draper, Theranos sold shares in a fundraising round that valued the company at more than $9 billion, putting Holmes's worth at an estimated $4.5 billion. There was just one problem: The technology didn't work. Erroneous results put patients in danger, leading to misdiagnoses and unnecessary treatments. All the while, Holmes and her partner, Sunny Balwani, worked to silence anyone who voiced misgivings--from journalists to their own employees.