'Roger Williams and the Creation of the American Soul' by John M. Barry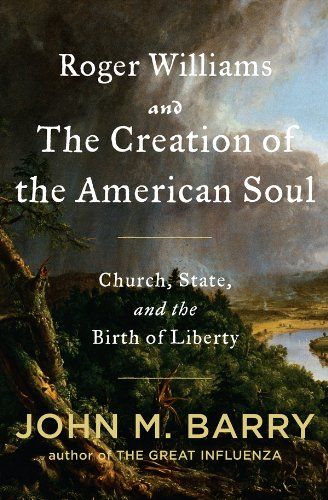 Why I'm Reading It
The separation of church and state is an important topic for me, personally. I crave understanding of the events leading up to the creation of America, the ideas that permeated the time, and how religious acceptance, intolerance, and Christian infighting steered a path toward religious liberty.
My Thoughts, Critique, Review
I gained a significant amount of knowledge from this book. It's a period of time before the American Revolution, before the Salem witch trials, but long enough after the "Pilgrims" that it's not the typical story of early settler survival, though it does cover those topics.
I had no idea that prior to being designated official British colonies, they were known as plantations. I had no idea Rhode Island was founded on this concept of individual and religious liberty, or that it was nearly conquered politically by the neighboring (and rather cruel) plantations of Plymouth and Massachusetts Bay.
Publisher's Description
A revelatory look at the separation of church and state in America—from the New York Times bestselling author of The Great Influenza
For four hundred years, Americans have fought over the proper relationships between church and state and between a free individual and the state. This is the story of the first battle in that war of ideas, a battle that led to the writing of the First Amendment and that continues to define the issue of the separation of church and state today. It began with religious persecution and ended in revolution, and along the way it defined the nature of America and of individual liberty. Acclaimed historian John M. Barry explores the development of these fundamental ideas through the story of Roger Williams, who was the first to link religious freedom to individual liberty, and who created in America the first government and society on earth informed by those beliefs. This book is essential to understanding the continuing debate over the role of religion and political power in modern life.