'Tomorrow, and Tomorrow, and Tomorrow' by Gabrielle Zevin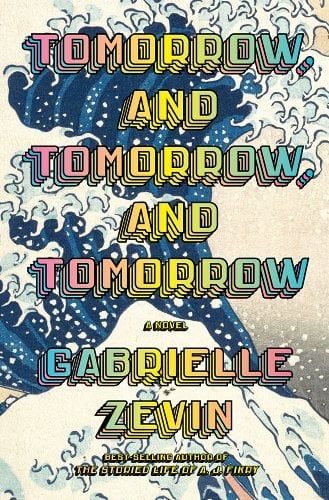 Buy on:
Amazon
Bookshop.org
Some links displayed may be affiliate links on which Kevin earns a commission. To read more about the affiliate links we're using, visit our affiliates page
Why I'm Reading It
Obviously, I like stories about creativity, the act of making. I like games. I like love stories. And I love tales told over a lengthy period of time. This one checks a lot of boxes.
My Thoughts, Critique, Review
I wasn't too sure about this book in the beginning.  Some of the descriptions of 80s video games felt inauthentic or forced. Not sure if it was the writing or the voice of the audiobook's narrator. But those concerns quickly became irrelevant, and the story went in fun, lovely directions.  It's a comment on games and creativity, but also on friendship and love.
Publisher's Description
In this exhilarating novel by the best-selling author of The Storied Life of A. J. Fikry two friends--often in love, but never lovers--come together as creative partners in the world of video game design, where success brings them fame, joy, tragedy, duplicity, and, ultimately, a kind of immortality.

On a bitter-cold day, in the December of his junior year at Harvard, Sam Masur exits a subway car and sees, amid the hordes of people waiting on the platform, Sadie Green. He calls her name. For a moment, she pretends she hasn't heard him, but then, she turns, and a game begins: a legendary collaboration that will launch them to stardom. These friends, intimates since childhood, borrow money, beg favors, and, before even graduating college, they have created their first blockbuster, Ichigo. Overnight, the world is theirs. Not even twenty-five years old, Sam and Sadie are brilliant, successful, and rich, but these qualities won't protect them from their own creative ambitions or the betrayals of their hearts.

Spanning thirty years, from Cambridge, Massachusetts, to Venice Beach, California, and lands in between and far beyond, Gabrielle Zevin's Tomorrow, and Tomorrow, and Tomorrow is a dazzling and intricately imagined novel that examines the multifarious nature of identity, disability, failure, the redemptive possibilities in play, and above all, our need to connect: to be loved and to love. Yes, it is a love story, but it is not one you have read before.