'A Tip for the Hangman' by Allison Epstein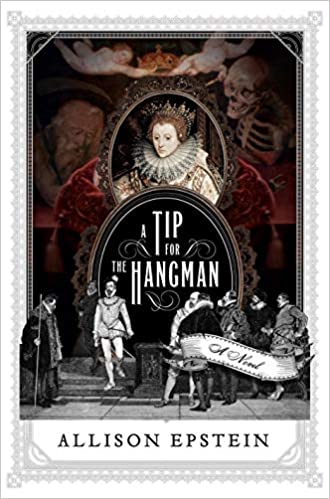 Buy on:
Amazon
Bookshop.org
Some links displayed may be affiliate links on which Kevin earns a commission. To read more about the affiliate links we're using, visit our affiliates page
Why I'm Reading It
This looked like a fun read when I bought it. Elizabethan espionage in the theater world. What's not to like?
My Thoughts, Critique, Review
I enjoyed it. It's exactly what it says it is, and the author provides excellent insight at the end about real world events and how the book differs. Fun, well-written fiction.
Publisher's Description
An Elizabethan espionage thriller in which playwright Christopher Marlowe spies on Mary, Queen of Scots while navigating the perils of politics, theater, romance--and murder.

England, 1585. In Kit Marlowe's last year at Cambridge, he is approached by Queen Elizabeth's spymaster offering an unorthodox career opportunity: going undercover to intercept a Catholic plot to put Mary, Queen of Scots on Elizabeth's throne. Spying on Queen Mary turns out to be more than Kit bargained for, but his salary allows him to mount his first play, and over the following years he becomes the toast of London's raucous theater scene. But when Kit finds himself reluctantly drawn back into the world of espionage and treason, he realizes everything he's worked so hard to attain--including the trust of the man he loves--could vanish in an instant.Pairing modern language with period detail, Allison Epstein brings Elizabeth's lavish court, Marlowe's colorful theater troupe, and the squalor of sixteenth-century London to vivid, teeming life. At the center of the action is Kit himself--an irrepressible, irreverent force of nature.