'A Desolation Called Peace' by Arkady Martine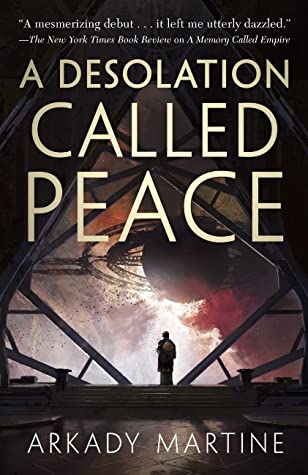 Buy on:
Amazon
Bookshop.org
Some links displayed may be affiliate links on which Kevin earns a commission. To read more about the affiliate links we're using, visit our affiliates page
Why I'm Reading It
Obviously, because I read and enjoyed the first book, A Memory Called Empire. The first book introduced a unique universe with layered politics and some really cool ideas about how knowledge can be passed from generation to generation.
My Thoughts, Critique, Review
I didn't quite enjoy this sequel as much as the first entry, but it's a good novel. The first half felt a little slow. Story picks up in the second half, and it really finds its stride as it dives into the process and difficulties of communication between races. I loved the themes of empathy and communal thought. The author has said, I believe, that this is a duology, not a trilogy, but this world seems too interesting and complex (and award winning) for anyone to avoid for long. Perhaps we'll see unrelated stories in this universe. I hope so.
Publisher's Description
Now a USA Today bestseller!
Publishers Weekly's Best Books of 2021
Amazon's Best Science Fiction & Fantasy of 2021
Bookpage's Best Science Fiction & Fantasy of 2021
Goodreads Choice Awards Nominee for Best Science Fiction Book of 2021

"[An] all around brilliant space opera, I absolutely love it."—Ann Leckie, on A Memory Called Empire

A Desolation Called Peace is the spectacular space opera sequel to Arkady Martine's genre-reinventing, Hugo Award-winning debut, A Memory Called Empire.

An alien armada lurks on the edges of Teixcalaanli space. No one can communicate with it, no one can destroy it, and Fleet Captain Nine Hibiscus is running out of options.

In a desperate attempt at diplomacy with the mysterious invaders, the fleet captain has sent for a diplomatic envoy. Now Mahit Dzmare and Three Seagrass—still reeling from the recent upheaval in the Empire—face the impossible task of trying to communicate with a hostile entity.

Their failure will guarantee millions of deaths in an endless war. Their success might prevent Teixcalaan's destruction—and allow the empire to continue its rapacious expansion.

Or it might create something far stranger . . .