I don't remember the exact year I was introduced to The Shadow of the Wind. 2006? 2007? But I do remember what I was doing.
Mowing the lawn. Didn't see that coming, eh?
It was a hot summer day. My cheap MP3 player pumped an audiobook through earphones barely loud enough to hear over the roaring mower engine.  Audiobooks weren't my thing, but I wanted to give them another try. That's when the voice of narrator Jonathan Davis read the opening chapter of a haunting, beautiful tale I immediately loved.

I still remember the day my father took me to the Cemetery of Forgotten Books for the first time. It was the early summer of 1945, and we walked through the streets of Barcelona trapped beneath ashen skies as dawn poured over Rambla de Santa Monica in a wreath of liquid copper.

"Daniel, you mustn't tell anyone what you're about to see today," my father warned. "Not even your friend Tomas. No one."

"Not even Mommy?"

My father sighed, hiding behind the sad smile that followed him like a shadow through life.

"Of course you can tell her," he answered, heavyhearted. "We keep no secrets from her. You can tell her everything."

Shortly after the Civil War, an outbreak of cholera had taken my mother away. We buried her in Montjuic on my fourth birthday. I can only recall that it rained all day and all night, and that when I asked my father whether heaven was crying, he couldn't bring himself to reply. Six years later my mother's absence remained in the air around us, a deafening silence that I had not yet learned to stifle with words.
The mood, the sadness, the mystery. And it only got better from there.
We followed our host through a palatial corridor and arrived at a sprawling round hall, a virtual absilica of shadows spiraling up under a high glass dome, its dimness pierced by shafts of light that stabbed from above. A labyrinth of passageways and crammed bookshelves rose from base to pinnacle like a beehive woven with tunnels, steps, platforms, and bridges that presaged an immense library of seemingly impossible geometry. I looked at my father, stunned. He smiled at me and winked.

"Welcome to the Cemetery of Forgotten Books, Daniel."

… My father knelt next to me and, with his eyes fixed on mine, addressed me in the hushed voice reserved for promises and secrets.

"This is a place of mystery, Daniel, a sanctuary. Every book, every volume you see here, has a soul. The soul of the person who wrote it and of those who read it and lived and dreamed with it. Every time a book changes hands, every time someone runs his eyes down its pages, its spirit grows and strengthens. This place was already ancient when my father brought me here for the first time, many years ago. Perhaps as old as the city itself. Nobody knows for certain how long it has existed, or who created it. I will tell you what my father told me, though. When a library disappears, or a bookshop closes down, when a book is consigned to oblivion, those of us who know this place, its guardians, make sure that it gets here. In this place, books no longer remembered by anyone, books that are lost in time, live forever, waiting for the day when they will reach a new reader's hands. In the shop we buy and sell them, but in truth books have no owner. Every book you see here has been somebody's best friend. Now they have only us, Daniel. Do you think you'll be able to keep such a secret?".
I don't think I could have kept the secret, to be honest. And the opening prologue ends like this:
Once, in my father's bookshop, I heard a regular customer say that few things leave a deeper mark on a reader than the first book that finds its way into his heart. Those first images, the echo of words we think we have left behind, accompany us throughout our lives and sculpt a palace in our memory to which, sooner or later -- no matter how many books we read, how many worlds we discover, or how much we learn or forget -- we will return. For me those enchanted pages will always be the ones I found among the passageways of the Cemetery of Forgotten Books.
The words mesmerized. The sentiment dug deep. Here was a book that spoke to each of my favorite emotions in language that instigated a constant tingle. Timeless. Mysterious. Nostalgic. Eloquent and rhythmic. This tale taught me how to listen to an audiobook. I desperately wish I had written it myself.
The Shadow of the Wind by Carlos Ruiz Zafón is a romantic, gothic mystery novel, an ode to books and what it means to be a book lover. Zafón writes in Spanish, and this series was translated by Lucia Graves, who deserves endless praise. I've since read it twice in addition to listening to the audiobook, and I own an advance reader copy acquired off Ebay. I've also read the other three books in what became known as the Cemetery of Forgotten Books series. Each book is a standalone story, but characters and timelines and plot points intersect, giving the series a delightful, circular, recursive feel, which plays into its atmosphere and intrigue.
Without question, the most gorgeous editions I own are those from Subterranean Press, an independent printer focusing mostly on small print run collectible editions of science fiction and fantasy literature. I find their stuff hit or miss from a design standpoint, but the quality is always impressive.
Between 2008 and 2019, they published collectible editions of The Shadow of the Wind and the three other books. The cover artist / illustrator is Vincent Chong.
My copies, seen below, are Limited Editions. Subterranean often publishes a Limited print run and a Lettered Print run. The Lettered Print run consists of 26 copies (A-Z), and often includes a custom case, but the prices are always high. I certainly couldn't afford them at the time. Besides, they usually sell out before I see the email announcing the pre-order.
Regardless, these are some of my favorite books on the shelf, and I spent ten years collecting them, which adds a bit of sentimental value. The artwork captures the style. The colors are highly saturated and gorgeous. The binding and paper quality are superb. I've never actually shown them off before, so here they are. Ta-da!
If you're a mystery lover and haven't read The Shadow of the Wind, I encourage you to do so. If you're a book collector and desire something special in your collection, do what the protagonist in the Shadow of the Wind does: track these down. They'll snag a special place in your heart, and they'll always remain beautiful and unforgotten.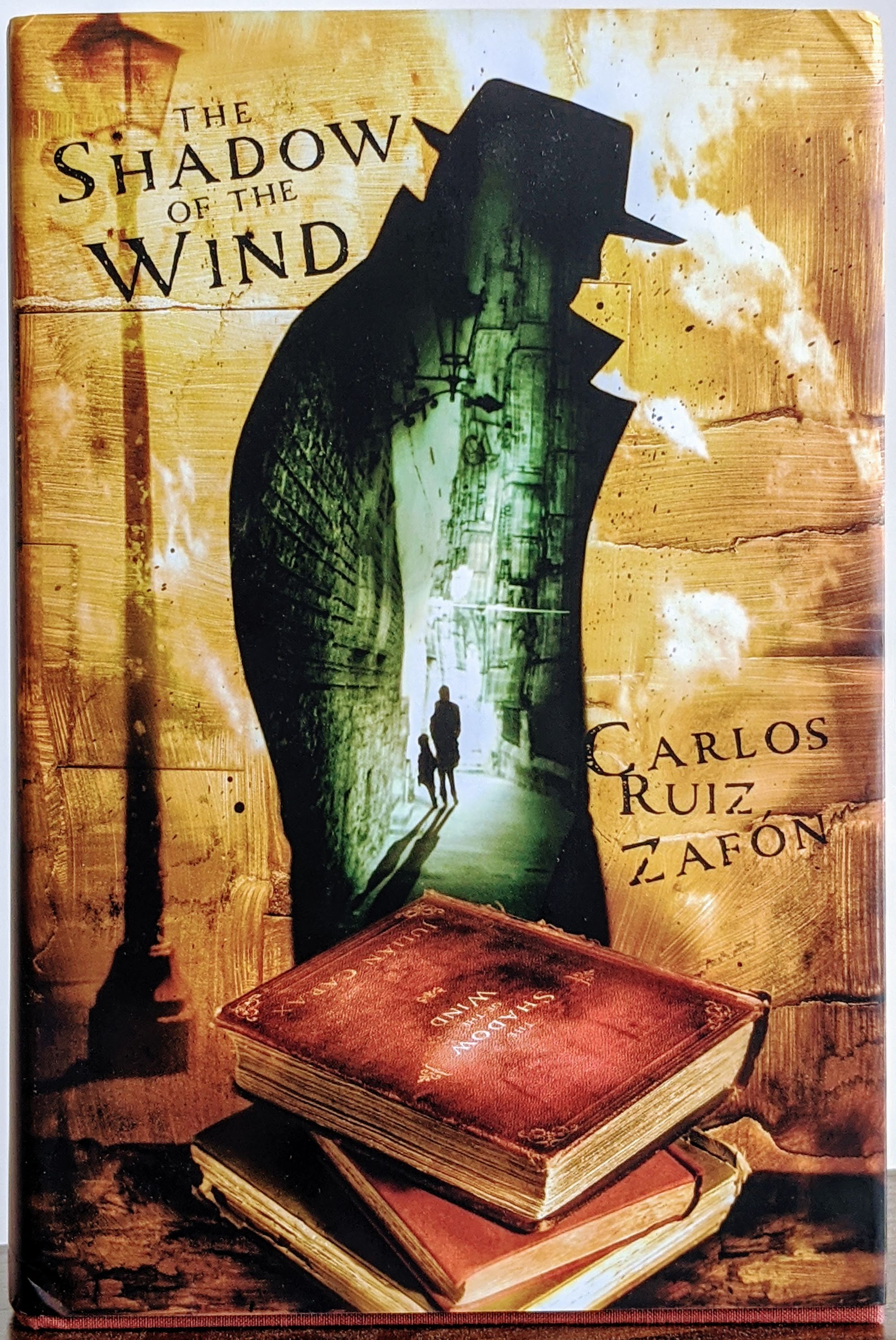 ---

Incidentally, I wrote this post a week ago. A day later, the world learned that Carlos Ruiz Zafón had died at the age of 55.  My reaction felt unexpectedly powerful.
A handful of my favorite authors date back to my initial fascination with reading. Some of those authors died long ago. I expect the death of the others to profoundly impact me.  But Zafón doesn't date back to those early days. I read The Shadow of the Wind in my early thirties. I suppose it has so thoroughly wrapped itself around my emotions and style and memory it's now as tangled in my identity as any other work. I felt a surprising degree of affection for an author I've never met or interacted with beyond reading his books. A sad day. The world lost a good one, and I'm heartbroken at the loss of tales he'll never tell.