The fine folks at Play Attitude have delivered once again. Arriving on my doorstep last week from somewhere in that distant magical land across the oceans, otherwise known as Spain, was quite possibly their most beautiful book to date.
The ABC of Edgar Allan Poe was a Kickstarter campaign they ran back in July 2015.  Before he had any plans of creating the book, artist David G. Forés challenged himself to create a new Poe inspired piece of Instagram art every day for a month. Each day represented a new letter of the alphabet, and for each letter he drew a Poe related character or object. He then decided to turn those drawings into an art book for all of us Poe fanatics.
Again, his style works perfectly. It can be playful, creepy, seductive, cartoony, or haunting. I want to name it "caricatured gothic", but given my art history ignorance this might be more of an insult and less of a compliment than I intend. It works well with Poe in both aesthetic and mood.
The book itself is gorgeous. The red slip cover steals the show. Its die-cut gold lettering screams quality. The book jacket is wonderfully textured. The feel, if I had to describe it, is what you'd get if you combined felt with burlap. The typography is bold in places but slim and elongated in others, which very much matches the artwork. These ink drawings are all styled similarly, and they give the book an aesthetic cohesion. Wonderful details on each page and in the overall package demonstrate enormous pride in craftsmanship and a desire to create a beautiful book.
I love it. My particular Kickstarter level included postcards, a custom signed sketch on the book end papers, and a signed print of one of the lettered art pieces. When Naiara at Play Attitude asked my preference, I couldn't decide which was my favorite. I listed three options in order of preference (all of which relate to my novel Amontillado). They kindly sent me all three!  How awesome. I imagine this is a reward for having backed all of their projects to date, so don't get your hopes up that they do this for everyone.  (Maybe they do, but I feel more special if I say they don't).
Kudos to David and everyone at Play Attitude for another successful Kickstarter campaign and another gorgeous, well-crafted book. I'm thrilled to have it on my bookshelf.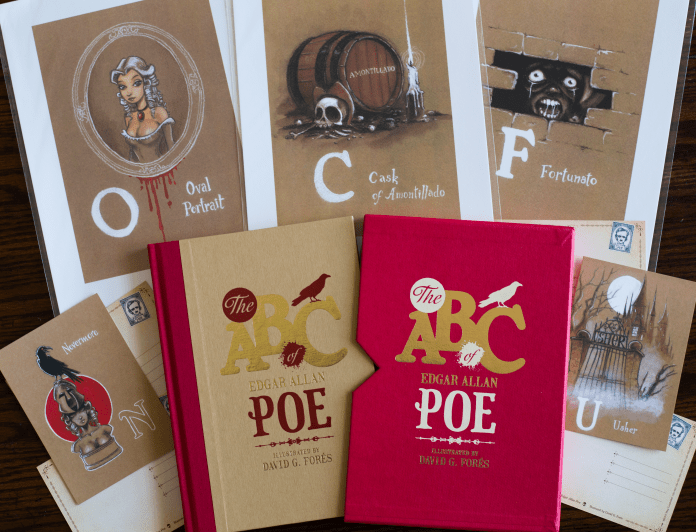 Oh, and their next project is Star Wars related. Excellent!