Two and a half years ago, I ordered a book. By itself, this is not a unique event. But this book was special.
It all started when an independent author battled cancer. Self-employed like most indie authors, he didn't have insurance or funds to cover expensive treatments, and as a result he ran up significant medical debts. He struck upon an idea to help raise money while simultaneously providing something of value.
He reached out to authors in the Science Fiction & Fantasy community asking them to contribute a short story to a collection he planned to publish. Their story donations would allow him to use the book proceeds to help cover the cost of his treatment. The response was amazing.
Some of my favorite fantasy authors contributed. Tad Williams and Terry Brooks, who helped forge my love of reading more than twenty years ago (and who are are still going strong). Brandon Sanderson, who rescued the Wheel of Time after Robert Jordan's death and seemingly writes 411,000 words a day. And Patrick Rothfuss, whose The Name of the Wind is one of the most beautifully worded novels I've ever read. Such a profusion of talent and authors I respect, all coming together to help a fellow wordsmith in need. One of the reasons the book took so long to publish: hundreds of signature pages had to be shipped across the country from author to author until everyone had signed every copy.
This week, some thirty months after I ordered it, Unfettered arrived on my doorstep. It's beautiful. A hard slip case. Fantastic illustrations. Too many amazing signatures. Oh, and all those short stories. Take a look. The photos don't do it justice.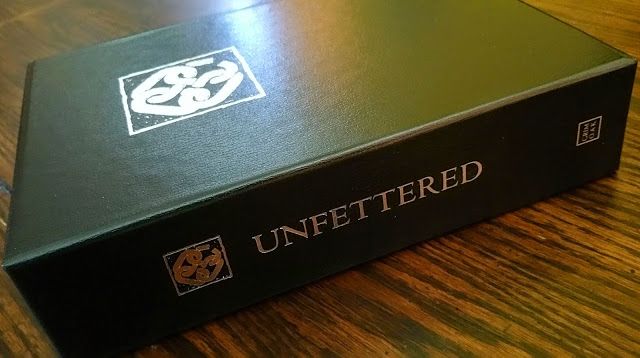 Even if the money didn't go to a good cause, this book would be amazing. So much care and effort went into producing it. I feel privileged to place it on my bookshelf. I've never waited so long for a purchase to arrive on my doorstep, but this one was worth the wait. Well done to everyone involved.
And the author who made it happen? He's publishing a new collection intended to raise money for other authors with illnesses they can't afford to fight. His name is Shawn Speakman. His publishing company is Grim Oak Press. You can learn more, help out, and see his other books at grimoakspress.com